Welcome to HOTEL NIAGARA's website where we have the pleasure to present the accommodation and recreational offer which – in its standard, service and modern style – is tailored to the special needs of its Clients
Hotel rooms in the ** and *** standard
Hotel Niagara is a facility which provides its Guests with 2 or 3-star rooms as well as a recreational and conference area located nearby Konin.
Conference and Workshop Space
The hotel offers convenient solutions for businessmen, tourists, and the companies organising conferences, workshops and banquets. It is a perfect place to relax or work from.
One and Two-Guest Rooms and Apartments
The Visitors can choose from 46 comfortably equipped 1- and 2-guest rooms, including spacious apartments and rooms adjusted to the needs of the incapacitated Guests. All rooms were designed in the same tasteful and modern style, with the individually matched and selected equipment. Moreover, the rooms in our facilities use a state-of-the-art system of electronic locks, free Wi-Fi, as well as entirely furnished bathrooms with a high standard of finish.
Conference Rooms
We offer two conference rooms the main value of which is distance from the humdrum of a city, which promotes concentration during lectures. At the request of Participants, we can arrange for a complex service during the conference, providing them with conference materials and culinary service with a special menu. Each room is equipped with the sound system, open to daylight, access to Wi-Fi, air conditioning, screen + projector + flipcharts.
Restaurant and Banquet Hall
Furthermore, we offer a restaurant and banquet hall. The unique, cosy atmosphere of the interior and excellent, professional service encourage social and business meetings. The carefully selected menu of our chef will satisfy the taste of any gourmet. The restaurant offers a wide range of exquisite dishes from the Polish cuisine.
For those seeking relaxation and entertainment, we offer quality time in the recreation centre where one can enjoy:
– 9-ball, squash, bowling, drink bar
as well as the swimming pool area:
– gym, swimming pool, dry and steam saunas, jacuzzi
On top of that, all facilities have a comprehensive 24h external and internal monitoring system as well as a parking lot for hotel Guests only.
Thanks to the distinctive atmosphere and professional service, the accommodation nearby Konin will trigger lasting memories. Do not hesitate to see the whole offer!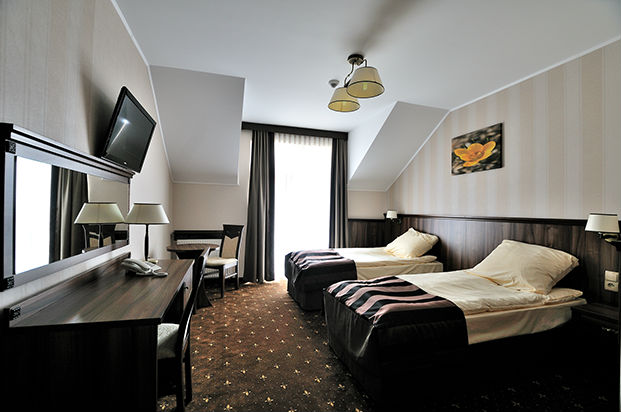 We accept the card Multi Sport